This is a pattern of how to crochet a star amigurumi. You can use this star to make a keychain or ornaments. You can put them on sticks or strings, they are perfect for a baby mobile, also you can use them as cake toppers. Besides the star, you can find patterns of a heart, a sun, a small animal on Ami SaiGon Channel.
Pattern by: @ami_saigon20
Picture: @ami_saigon20
Abbreviations:
R = round
mr = magic ring
sc = single crochet
inc = increase (2 sc in the next stitch)
dec = decrease (join the next 2 stitches into 1)
sl st = slip stitch
st = stitch
ch = chain
FO = finish off
[ ] = number of stitches you should have at the end of the round/row
( ) x 6 = repeat whatever is between the brackets the number of times stated
To crochet lovely star amigurumi you need:
– Yarn: green color (or any color your favorite color)
– Crochet hook
– Fiberfill for stuffing
– Sewing needle, scissors
Amigurumi Star
Free crochet patterns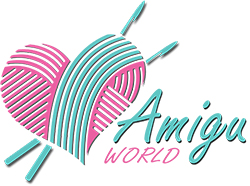 Star (Make 2)
Start with green yarn
| | |
| --- | --- |
| R 1: 5 sc in mr | [5] |
| R 2:  inc x 5   | [10] |
| R 3: (1sc, inc) x 5  | [15] |
R 4: [(1sc, hdc) in 1st, 3dc in 1st, (hdc, 1sc) in 1st] x 5
Cut the yarn, leaving a long tail for sewing.
Make another star and stitch them together with your yarn needle. Stuff with the filling before closing and securing the yarn.
What do you think? Easy right? Let's crochet one star, two stars, and more and more stars! Have fun!
If you are a beginner and can't read pattern crochet, let's watch amisaigon's video. It is an easy-to-follow amigurumi tutorial.
Buy Me a Coffee
Hey everyone! We make cute free crochet amigurumi patterns. We also have a Youtube channel to help you make it easier. And if you enjoy our videos and appreciate our work, please support us, our YouTube channel, and
Buy Me a Coffee
. We appreciate every single cup and all the support, encouragement, and kindness you show us!
Thank you for supporting us.
#AmiguWorld