Express yourself with this Emoji icon amigurumi! Today's Amigurumi knitting lesson is on this smiling emoji, bringing those digital emojis to life. If you like our instructional Amigurumi knitting videos please and want to help support us, please like, share and subscribe. 
Pattern by: Ami Saigon
Picture: Ami Saigon
Traslate: AmiguWorld
Abbreviations:
R: round
mr = magic ring
sc = single crochet
inc = increase (2 sc in the next stitch)
W = 3 sc in the next stitch
dec = decrease (join the next 2 stitches into 1)
sl st = slip stitch
st = stitch
ch = chain
dc = double crochet
tr = treble crochet
hdc = half double crochet
F.O = finish off
BLO = back loop only
FLO = front loop only
 [ ] = number of stitches you should have at the end of the round/row
( ) x 6 = repeat whatever is between the brackets the number of times stated
To crochet Emoji amigurumi you need:
Yarn: yellow color
Crochet hook
Fiberfill for stuffing
Sewing needle and scissors
Emoji icon amigurumi
Free crochet patterns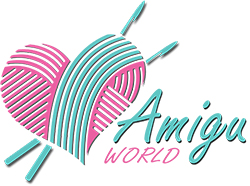 EMOJI
With yellow yarn color
R1: mr with 6 st                           [6]
R2: inc x 6                                    [12]
R3: (1sc, inc) x 6                          [18]
R4: (1sc, inc, 1sc) x 6                   [24]
R5: 24sc                                       [24]
R6: (7sc, inc) x 3                          [27]
R7-9: 27sc                                    [27]
R10: (7sc, dec) x 3                        [24]
R11: 24sc                                     [24]
R12: (1sc, dec, 1sc) x 6                [18]
R13: (1sc, dec) x 6                        [12]
R14: dec x 6                                 [6]
FO. Cut yarn and hide the tail
Take a black yarn to create a face
Welcome to Ami SaiGon Channel
Welcome to our official youtube channel Ami Saigon! You can have free video instructions which show you how to crochet Amigurumi stuff in the shapes of different things from animals to plants.
They can be presents for your loved ones. As usual, We will upload new videos on Thursday each week, in addition we release funny videos on the first day of every month.
When your Amigurumi once, let share pictures of them on Instagram and do not forget to tag us with @amisagon and use hashtag #amisaigon. – We will be delighted if you enjoy your videos and become our subscribers. Thank You so much!
Buy Me a Coffee
Hey everyone! We make cute free crochet amigurumi patterns. We also have a Youtube channel to help you make it easier. And if you enjoy our videos and appreciate our work, please support us and our YouTube channel and
Buy Me a Coffee
. We appreciate every single cup and all the support, encouragement, and kindness you show us!
Thank you for supporting us.
#AmiguWorld