If finding a gift for small babies is challenging you, here you have found A Little Bell Amigurumi in the appropriate size for our loved babes and it can be held by them easily. Additionally, it could be a great idea to use this cute bell as a keychain. Let's get started with your favorite color and enjoy your crocheting time.
Pattern and Picture by: @amiguworld
Abbreviations

:
R= round
mr = magic ring
sc = single crochet
inc = increase (2 sc in the next stitch)
dec = decrease (join the next 2 stitches into 1)
W = 3 sc in the next stitch
A = (sc3tog) = decrease 3 Stitches (join the next 3 stitches into 1)
sl st = slip stitch
st = stitch
ch = chain
dc = double crochet
tr = treble crochet
hdc = half double crochet
F.O = finish off
BLO = back loop only
FLO = front loop only
[ ] = number of stitches you should have at the end of the round/row
( ) x 6 = repeat whatever is between the brackets the number of times stated
To crochet amigurumi little bunny you need:
– Yarn: pink and red color
– Crochet hook
– Fiberfill for stuffing
– Sewing needle and scissors
Little bell amigurumi
Free crochet patterns
Bell amigurumi
Start with pink yarn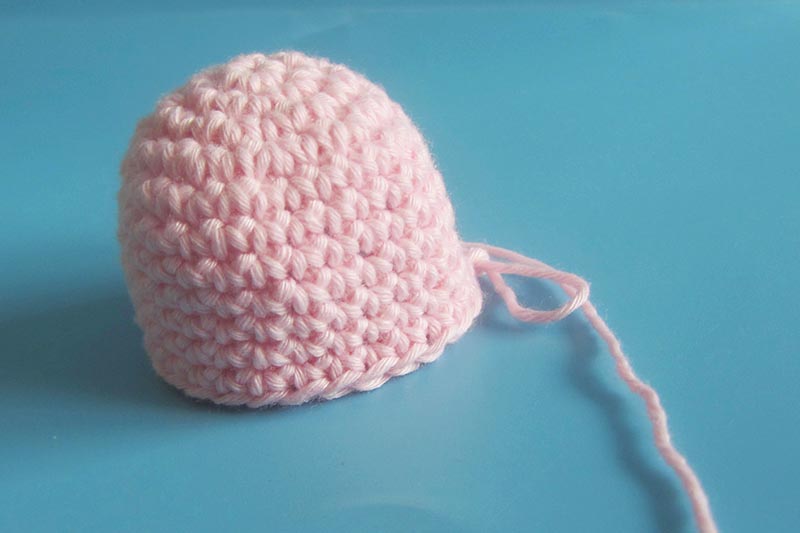 | | |
| --- | --- |
| R 1: 6 sc in mr | [6] |
| R 2: inc x 6 | [12] |
| R 3: (1 sc, inc) x 6 | [18] |
| R 4: (2 sc, inc) x 6 | [24] |
| R 5-11:  24 sc (7 rounds) | [24] |
| R 12: (3 sc, inc) x 6 | [30] |
| R 13: (2 sc, inc) x 10 | [40] |
Bow
Start with red yarn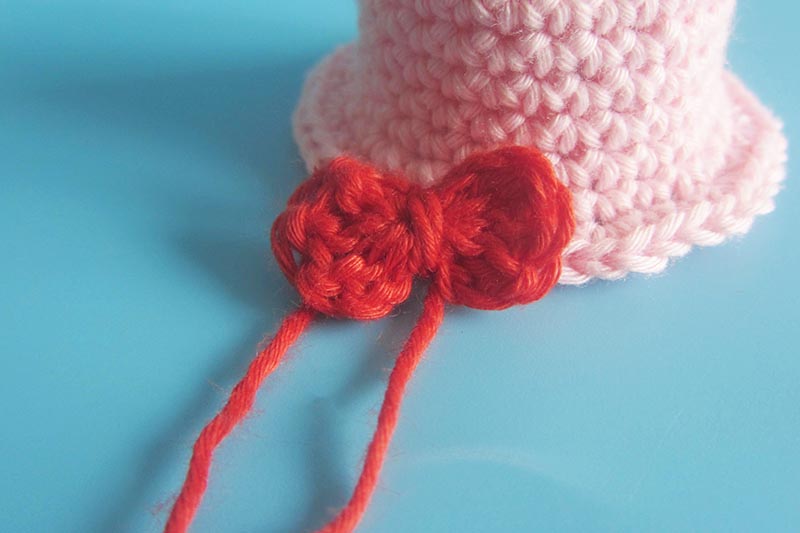 Make a magic ring and (2 ch, 3 dc,  2 ch, 1 sl st) x 2 times, sl st to first ch, Fasten off. Leave the thread about 10 cm long. Tighten the magic ring. The remaining thread rewind the middle of the bow. Tie a knot. Hide the ends of the thread.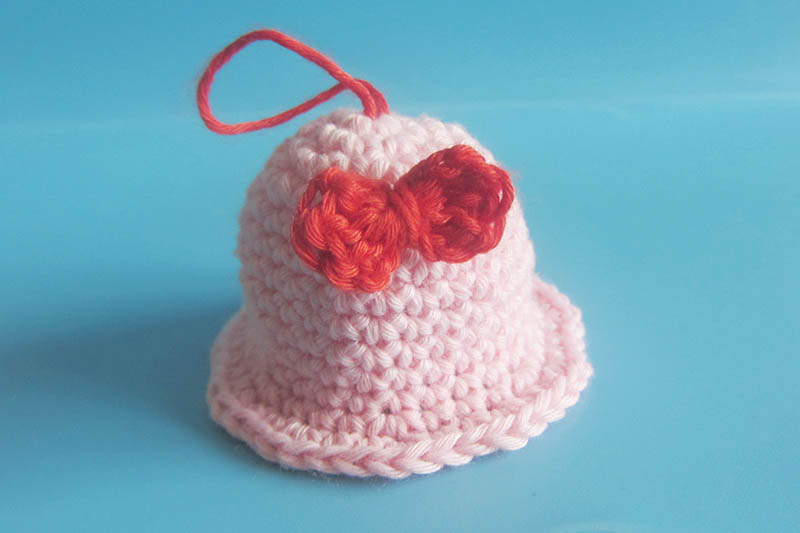 Assembly:
–  Sew the bow on the bell.
It is a simple crochet, isn't it? Let take your babe's attention by hanging it in front of them and start their imagination with this little bell. Thanks for visiting our website. Have a good day!
Buy Me a Coffee
Hey everyone! We make cute free crochet amigurumi patterns. We also have a Youtube channel to help you make it easier. And if you enjoy our videos and appreciate our work, please support us, our YouTube channel, and
Buy Me a Coffee
. We appreciate every single cup and all the support, encouragement, and kindness you show us!
Thank you for supporting us.
#AmiguWorld